Soil Seminar April 2023: Herbal leys with Emily Cooledge and Bioplastics with Samantha Viljoen
A double header with two emerging young scientists discussing the impact of herbal leys (Emily Cooledge) and bioplastic degradation (Samantha Viljoen).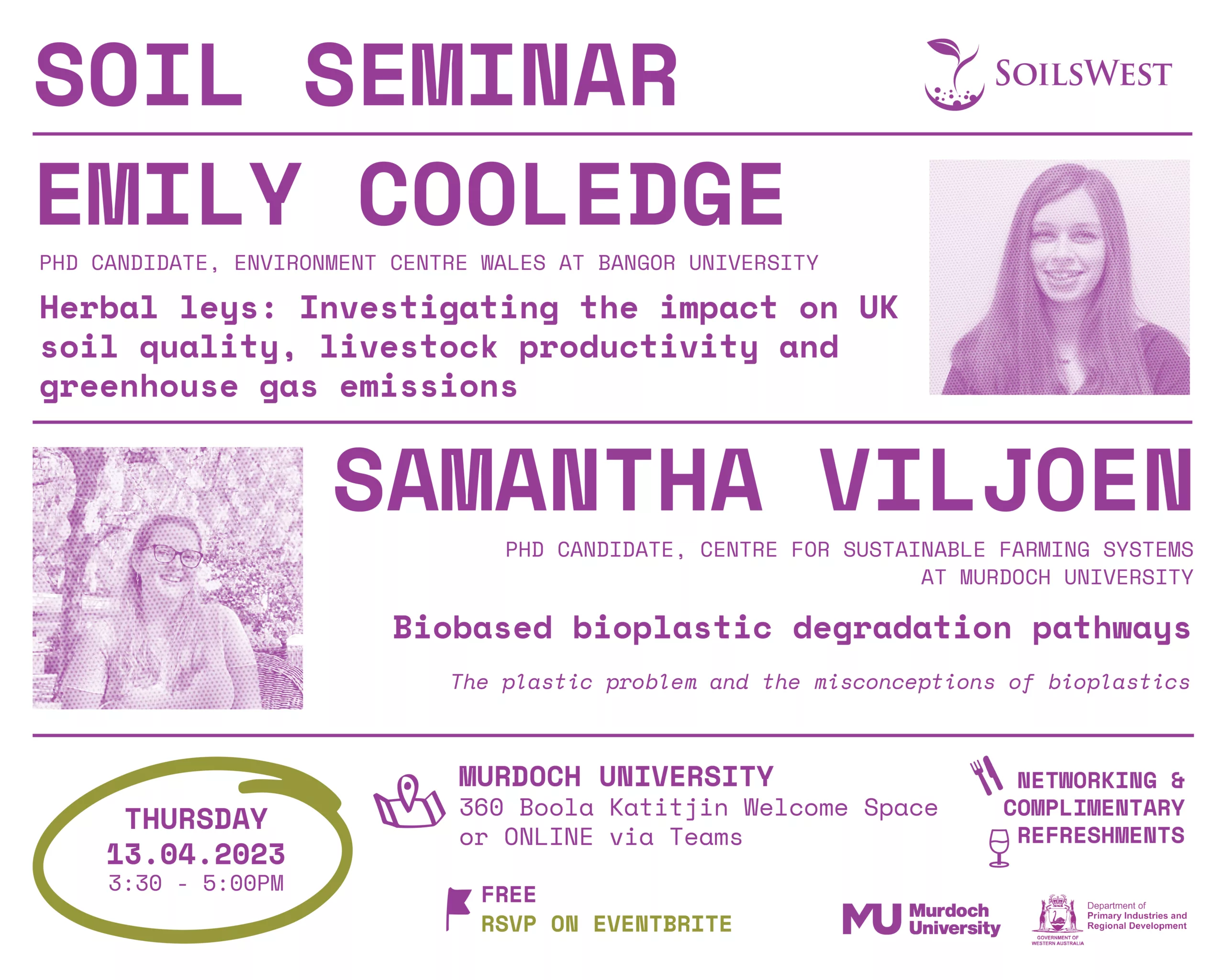 Murdoch University – Building 360 Boola Katitjin Welcome Space 360.1.001.
You can search for this location here: Murdoch Map . The Welcome Space is on the ground floor of Building 360 Boola Katitjin, on the southern side close to Discovery Way and Car Parks 7 and 8.
Thursday April 13, 2023 3:30 – 5:30PM AWST.
15:30 Emily Cooledge
15:50 Samantha Viljoen
16:15 Networking drinks and nibbles (provided complementary by SoilsWest)
About Emily's talk
In the UK, lowland sheep production systems are dominated by perennial ryegrass or grass-clover swards due to their productivity and persistence under grazing. However, these swards typically require additional nitrogen inputs to maintain yields, resulting in increased on-farm economic constraints and environmental implications.
Due to their promotion in agri-environment schemes, herbal leys (also known as multispecies swards) consisting of grasses, legumes and herb species are gaining in popularity as a low nitrogen-input alternative to conventional pastures that can deliver greater ecosystem services. However, little is known about their impact on soil quality or livestock health.
This talk will cover the results of a 4-year BBSRC-SARIC industry funded project, examining the impact of herbal leys on soil biogeochemistry and livestock productivity.
About Emily Cooledge
Emily Cooledge is a soil biogeochemist and has been based at Environment Centre Wales at Bangor University (North Wales, UK) since 2016. She is currently finishing her PhD on the environmental and agronomic benefits of grazing lambs on herb- and legume-rich multispecies "herbal" leys, supervised by Prof Davey Jones and Prof Dave Chadwick.
Prior to her PhD, she received a BSc (Hons) in Geography from Bangor University in 2018. She has since researched the carbon use efficiency of Australian soils, the spatial variability in UK upland urine-patch nitrous oxide (N2O) emissions, the uptake and movement of foliar applied radiolabelled phosphorus in maize, and the use of conifer needles as bio-monitors for antimicrobial resistance genes (ARGs) in Canada and the UK.
Her research interests are broad and encompass the relationship between soil, plant, and livestock health. Emily will be starting a post-doctoral position with Prof Davey Jones in April 2023 and is open to establishing new international collaborations.
About Samantha's talk
Samantha will discuss the plastic problem and the misconceptions surrounding bioplastics, with a focus on her future experimental plans surrounding 14C- radiolabelling of bioplastics to monitor the degradation pathways.
About Samantha Viljoen
Samantha is in the second year of her PhD at Murdoch University, having achieved her Masters at the University of East Anglia (UK) in chemistry. Her PhD thesis is on bioplastic and plastic additives, toxicity, and degradation in the terrestrial environment, with a focus on agricultural soils. Her first paper, titled 'Leaching of phthalate acid esters from plastic mulch films and their degradation in response to UV irradiation and contrasting soil conditions', was published earlier this year in the Journal of Hazardous Materials.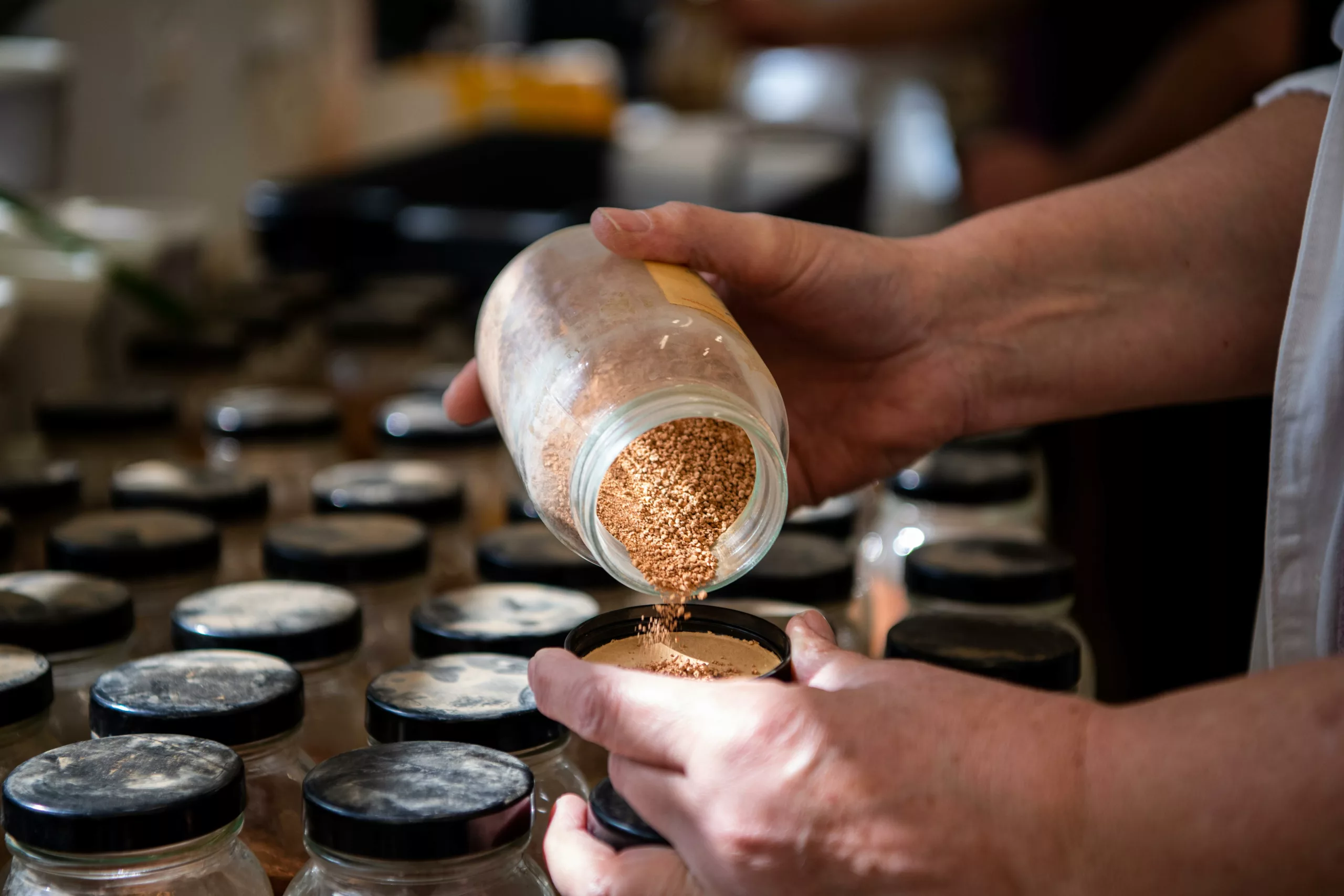 Australia's national science agency, CSIRO, has launched a new tool that will help Australia sustainably manage a critical natural resource which sustains lives and livelihoods.